You can always go to a gay campground anytime and have a blast. There are always great people around to meet, places to wander and explore, and everything else that you would expect from a campground or LGBT resort.
Here's a taste of what's happening this week in gay camping! Most gay campgrounds have theme weekends and parties to accompany them. You can choose to go camping and not partake in any parties. We suggest not taking the theme too literally – unless you want to!
Which theme weekend should you choose? Themes only define the activities, but don't define the people who will be there. You'll have a great time no matter what which you choose!
Here's what's up this weekend in gay camping:
The River's Edge
Georgia, 110 miles from Atlanta and 160 miles from Columbia, SC
The River's Edge welcomes campers 21+ in tents, RVs, and rental cabins to Jock Jalk In A Jock Weekend.
Jock (that would be you even if you don't think you are)
Jalk (jog + walk around the trails and roads)
In A Jock (well you can certainly wear more)
Everyone can check "Jock" on their profile this weekend!
Get ready to jog and walk, or Jalk, a 5k around the various roads and trails of this friendly gay campground about 90 minutes East of Atlanta. Of course, you can also run the course if you're feeling athletically ambitious or stand back and cheer on all the sweaty men. There are great views from both front and behind!
When you arrive, leisurely Walk The Course at 5pm before the Weekly Meet & Greet at 8pm on Friday night.
Then on Saturday, The Big Jalk Event is at 10am! If you want to prep even more or missed the previous night's walkthrough, you can Walk The Course While Direction Signs Are Being Placed at 8am. Afterward, water, bananas & a Finisher Medal Ceremony!
You are also welcome to take it down a notch with the monthly Sip and Sew. Hosted by Marion and Dave, bring a beverage and your favorite sewing project, or just drop by the clubhouse to visit and learn every third Saturday of the month.
Planning ahead, next weekend 8/26-28/22 is Trans Camp Weekend at The River's Edge. Sponsored by Alphabet Soup Atlanta, it will be an informal getaway to relax and just be you. There will be a bonfire, a comfortable and welcoming pool party for everyone, a talent show, and karaoke.
Cedars Campground
Millgrove, Ontario (90 mins from Toronto, 90 mins from Buffalo/Niagra, NY)
Cedars Campground serves the Gay, Lesbian, Bi, Trans, and Queer community of Ontario on 130 unspoiled, partially wooded acres atop the Niagra Escarpment. They have volleyball and a tennis court (you can borrow equipment from the office,) tent/RV sites plus cabins, a licensed pool/restaurant/bar/nightclub, and a clothing-optional area for you Canadians who aren't worried about sunburn!
Get wild After Werk with two back-to-back dance parties at the barn. If you want to come to play but not camp, Cedars offers weekend and night passes as well. There will be gogo boys, drag queens, and DJs to be announced.
On Friday night, there's a big kickoff Community Bonfire at 8 pm.
Friday's Night is Cosplay, so bust out your slutty Spidey costume, or grab a big wrench dressed as Mario. If you didn't get enough Animal House last weekend at CampIt in Michigan, Saturday is the Neon Toga event.
Then, on Monday, Aug 22, Cedars Campground is hosting a Monkeypox Vaccination Clinic. To book an appointment, visit hamilton.ca/monkeypox.
Over the Rainbow – This Week in Gay Camping
Glenallen, MO
(About halfway between St. Louis and Memphis, in the Ozarks)
This over-the-top Over The Rainbow weekend at Dawgwoodz kicks off Thursday for a Munchkin Poolside Pre-Party, followed by a screening of Wizard of Oz on the Poolside Big Screen on Fri. Then, the big cocktail party Masquerade Ball, show, and costume contest is on Saturday.
Over $800 in prizes will be awarded this week in camping at Dawgwoodzcamp, including The Best Dressed Whore. Think Gigolo Tin Man, Slutty Scare Crow, or Beastly loose Lion! The winner will win the coveted Masquerade Scepter, presented by last year's Whore! There will also be prizes for the best-decorated campsite, RV, or cabin. Performances by the Wickedly Talented Ladies, India J Bell, Trinity St. Moore, Roxie M Valentine, and Olivia J Bell.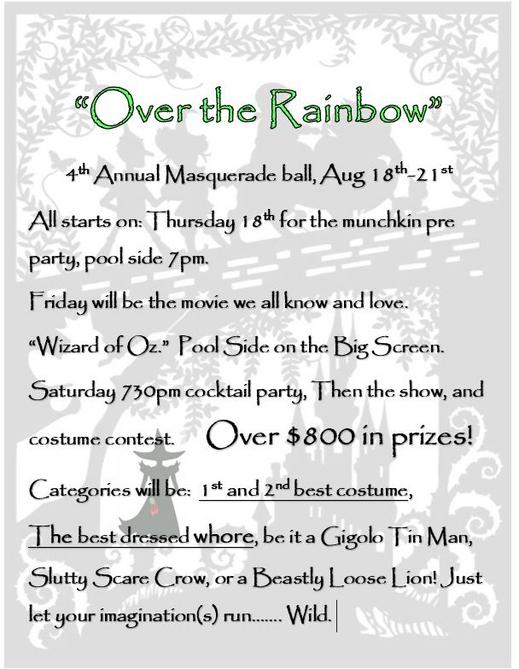 The Gathering – This Week in Gay Camping
Stroudsberg, PA (In the Poconos, convenient to NYC, The Woods, and Camp OUT Mt Nebo)
This weekend marks the opening of the two-week Gay Naturists International annual gathering!
This isn't a gay campground like the rest of what we usually share, but rather an annual camping-style meeting for all members of Gay Naturists International. Also, unlike many gay campgrounds which are clothing-optional, this is a nudist-oriented event. You don't have to take all your clothes off, of course, but the vibe will heavily towards an entirely naked event.
This week in gay camping, you can stay in one of the 70+ cabins that house 8-10 men each or bring your own tent or RV. There are no power, water, or sewer hookups, though, so this is boondocking-style.
There will be chartered busses from near Grand Central Station in NYC as well as Newark International Airport. Alternatively, you can rent a car or take a bus from Port Authority to Stroudsburg and hop in a quick taxi/rideshare to the event.
Once there, you can kayak, play tennis or volleyball, join the GNI Men's Chorus, work out in the gym or read and meditate in the shade of the tree. There are also two heated pools, karaoke and bingo.
The workshops, classes, and discussions will range from musical theater to massage basics, from family matters to fetish and kick. You can even volunteer to give a class in something you love!
You'll vote for Mr. GNI, Mr. GNI Leather, Bare Bear, and Miss Lace while enjoying nightly performances, movie nights, and singalongs.
There's too much for us to include in this recap of this major international gay naturists event, so check out the site for all the info.
And that's just a taste of what's happening this week in gay camping!
What are you doing in gay camping this weekend? Did we miss your favorite LGBT campground or event? Let us know in the comments below.
If you're living the RV digital nomad life, check out our recent articles on how to filter your RV water and our favorite ways to get groceries when traveling in an RV.