You can always go to a gay campground anytime and have a blast. There are always great people around to meet, places to wander and explore, and everything else that you would expect from a campground or LGBT resort.
Which theme weekend should you choose? Themes only define the activities, but don't define the people who will be there. You'll have a great time no matter what which you choose!

Quote about theme weekends from The Woods Campground
Most gay campgrounds have theme weekends and parties to accompany them. You can choose to go camping and not partake in any parties. We suggest not taking the theme too literally – unless you want to!
Triangle Recreation Camp (TRC)
Granite Falls, WA (near Seattle)
TRC stands unique from many other campgrounds because it is member-supported, volunteer-led, and run as a non-profit. It also boasts of primitive camping with room for hundreds of guests in tents, and the RV area is supplied with power from a generator for only a few hours per day. When we first heard this, we were worried we would be stuck in the middle of a field with nothing. But boy, were we wrong. TRC members have built extensive and unique camps featuring solar power, pumped water, full bars, and hospitality structures.
Friday August 12
Bust out your favorite holiday outfit for the Ugly Sweater Party hosted by the members at Camp Flamingo Joe's
Saturday Aug 13
Camp Cascadia invites you to a Muu Muus and Mimosas pre-Brunch. Bring your favorite (or least favorite) present to the White Hellephant Gift Exchange, then kick back at the Happy Holigays Brunch with shaved ice, slushies, otterpops, and "Holiday Leftover" sandwiches.
Then take your holiday nap and get ready to party at the XXX MAS Progressive Party with DJ Dave Robertson. Hosted by the sites on Trail 6, including Corral, ______ & Chill, Rammit Inn, In & Out, Cascadia, Oasis, Pangea, Seed & Supply, Bootz & Pantz, and Trade R Dics
There's a deeply embedded culture of hosting and hospitality at TRC, where everyone will always invite you for a snack or a drink at their brilliantly-named camps. We recommend you bring some extra munchies and beverages to share as you make new friends all weekend. You'll be 20 miles from cell service and 12 miles from the nearest little shop, so plan in advance.
Brite Nites – Illuminate Your Camp
East Stroudsburg, PA
(In the Poconos, convenient to NYC)
Camp OUT Mt. Nebo is one of the newest gay campgrounds, welcome queer guests 21+ to their clothing-optional BYOB resort. Day passes and nighlife passes are also available.
On Thursday, join for an Outdoor Movie at the pavilion. Then, on Friday, it's time for the big Light The Night with DJ Frank Bishop, as well as a Community Campfire, Karaoke, and a Midnight Swim.
Saturday kicks off at the pool for the Best Bloody Mary Mix all afternoon, rolling into the evening with Drag Pianist Lyra Vega at the Den. Then finally, it's the Get Lit Shot Crawl and Drag Queenery with DJ Frank Biship.
Close out your weekend at Camp OUT on Sunday with a Guided Hike and Jackbox Games.
Vermont Freedom Campground
Illumination Weekend
Greensboro Bend, VT
(A short drive from Burlington and Montreal)
Also shining bright this weekend is one of the Northeast's premiere LGBT campgrounds welcoming all humans of all identities over 18. This is the season for illuminations! Bring your favorite lighting and decorate your site, with prizes for Best Lights, Most Original, and Most Creative. Even if you don't plan to enter the contests, you can decorate your site just for fun!
On Friday night, bring your own cocktails and join for Popcorn and a Movie in the barn.
Then, on Saturday arrive dressed in your kilt or toga for a Potluck then party at the barn with Fire and Dance.
Pup-Tent 4Ever Weekend
Glenallen, MO
(About halfway between St. Louis and Memphis)
If your pup has two legs instead of four, this weekend at Dawgwoodzcamp is for you!
Have a blast on the 4th Pup Run with food, drinks, events, shows, games, and more. Visit the Pup Tent website to register for the first title event, the Pup DWC contest.
Dawgwoodz Camp welcomes all men 21+ for tent and RV camping as well as lodging and cabins in the secluded foothills of the Ozarks. There is an on-site camp store and café. Guests are also welcome for the day with a day pass.
Thursday Aug 11
Arrive early to Set Your Den, then check out the Hot Pocket Bar followed by a Movie.
Friday Aug 12
Kick off your weekend with a Brunch and Lazy Pool Day, then take it up a notch with a Mosh and Karaoke after the Bar and Dinner.
Saturday Aug 13
It's Story Time with Drunkle Gruffy after Brunch, followed by a day of Games. Then, after Bar and Dinner comes the Main Event. If you are still going strong, head to the Bonfire and Paw Paw Party to end the night.
Sunday Aug 14
Take your time for a Lazy Check-Out after your Lick Your Wounds Brunch. There will be lots of Hugs and Sniffs to say goodbye to all of your new man's best friends.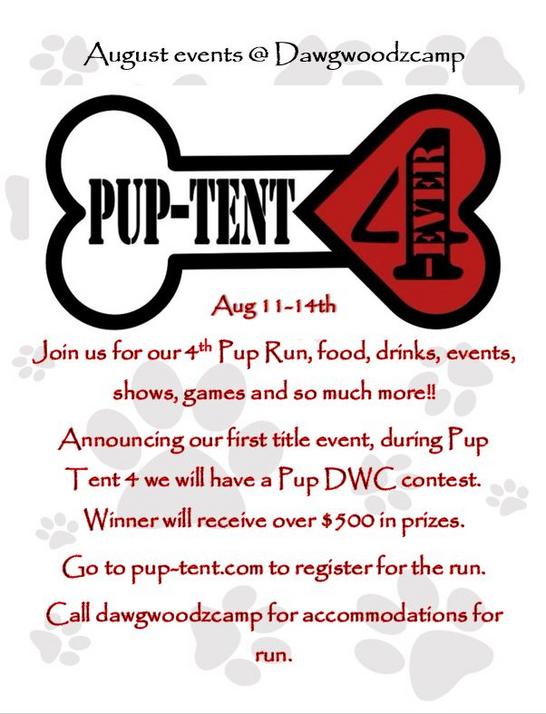 Campit Resort
Animal House Toga Party Weekend
Michigan
TOGA TOGA TOGA. COLLEGE. OTHER ANIMAL HOUSE CLICHE HERE.
While the film may not hold up to today's inclusivity standards, no one can deny that the men and women of Delta House knew how to throw the ultimate toga party.
Follow these toga-making instructions and join your friends 21+ of the gay, lesbian, bisexual, queer, trans, and other inclusive communities for a hot August weekend of classic university partying.
Campit's beautifully wooded 33-acre property is located just 10 minutes from Saugatuck and Douglas, the Midwest's most popular LGBTQ vacation destination and its beautiful Lake Michigan beaches. In addition to camping for both tenters and RV'ers, Campit offers a number of lodging choices including Log Cabin rentals, a five-bedroom Bunkhouse B&B, and Vintage Trailers.
Kick off your Friday at the Where Is My Weenie? Hot Dog Social. Once you've found your weenie, you can slick up for Lube Wrestling or stimulate your mind with Trivia Under The Big Top Tent with a $50 prize.
On Saturday, the Campit Café features Coffee With The Verns, then head over to the pool for fun and games including Strip Spelling Bee, Pool Pong, and Volleyball Hosted by Lucy Fatale. Stuff yourself with some frat-tastic Pizza Under The Big Top.
Throw on your toga and join the Toking Circle around the campfire at the big Let's Get Blazed party. Once you're sufficiently giggling, there will be a Best Toga Contest, Toga Dance Party with DJ Fudgie, and a Moonlight Swim & Campfire with Richie.
Stick around on Sunday for Ice Cream at the Pool with DJ Chris and a Sunday Dive-In Movie at the Campit Pool. There will also be a memorial for friend-of-Campit Tina by the pond, accepting donations for the GR Trans Foundation.
All weekend, you can visit the CampStore for ice, beer/soda, firewood, smoking paraphanalia, and pride/leather gear. The Rainbow Café is also open for most meals.
B-Movie Production Weekend
Stockbridge, MI
(West of Ann Arbor, North of Jackson, South of Lansing – Just about an hour and a half drive from Detroit)
If partying like you're in a movie isn't enough and you want to be the star, men 21+ can head to one of Michigan's other gay campgrounds and be a part of making a new B-Movie production!
On Friday night, meet at Solitude-CRC (Creekridge's nightclub) to choose your role. You can be an actor or behind the scenes as a set designer, costomer, and other movie-making roles. Perhaps they need a fluffer? Then, hop on the Casting Couch to get to know your fellow campers and prove you're right for the role.
You don't have to be a part of the production to be in the movie! Make sure you've signed your release and are wearing your wristband if you want a chance to be a star. Depending on how this movie-making weekend goes, the content may become part of a "Uniquely CreekRidge" documentary!
There will also be a Potluck followed by College Night on Thursday, and a Salty Balls Social, Community Bonfire, and Park Ranger Notes on Friday.
Saturday is a day full of food and fun with Morning Joe at the lodge, Nathan's Lunch Ladies, Snow Cones, and an "On The Set" Potluck. Then, head over to Solitude for the big Wrap Party. The Family Square is full of campers who are also vendors.
Sunday, weather permitting, brings the Cabana Club Pool Party followed by Board Games and Cards at the CRC House of Games.
Do you know of an event to feature or want your campground to be on our weekly events list? Let us know in the comments below, or contact us!